There are so many FUN ways to celebrate the arrival of summer and you don't need a fancy pool to host it. I'm here to share my Top 6 Epic Summer Kickoff Party themes + some ideas to get you started. 
1. "Let's Keep it Cool" Ice Cream Party
I scream, you scream, we all scream for ice cream!! Hosting an ice cream party is something just about every kid will enjoy. Also, putting together an awesome ice cream bar is pretty simple. Here's some ideas to get you started!
I love the idea of using these individual ice cream cups! If your party is large, however, I could see that getting a little pricey so I believe a carton of the 3 main flavors - vanilla, strawberry and chocolate - is just fine. The toppings in this pic below are perfect and you can find just about anywhere! Don't forget to check Dollar Tree for all things gummy.
(Ice Cream Bar Toppings by cristincooper.com)
This ice cream bar set up in the next picture is so cute and becomes quite the eye-catcher of the party. You can totally make your own "awning" with some foam board and PVC - DIY video to come. 
(Ice Cream Treats Table by tellloveandparty.com)
This ice cream themed cake below is to die for! Take this idea to your fave baker for them to create a showstopper just for you!
(ice cream cake featured on cristincooper.com)
With the ice cream bar being your front and center, you do not need much else for decor but these ideas are super cute and will not take too much extra time. 
(Last minute DIY Ice Cream Backdrop by thinkingcloset.com)
(DIY Honeycomb Ice Cream Cone Garland by ohhappyday.com) 
Lastly, if you want some non-ice cream treats for your guests to enjoy, these ric-ice cream-spies are a great idea!
(find the DIY recipe at elestory.com)
2. "Pop Into Summer" Popsicle Party
This theme would totally be up my daughter's alley because she does NOT like ice cream - like what?! I know. So different vibe but JUST AS FUN! Let's check out some inspo!
First, check out this amazing noodle "popsicle" garland! Skill level - EASY - and so cute! Find how-to directions in the link under the photo!
(Popsicle noodle garland by Oh Happy Day)
EVERY child loves a pinata. I don't know if it's because they get to hit something or the candy that falls out, but for whatever the reason, kids go crazy when it is announced. Check out this DIY Popsicle Pinata!
(DIY Popsicle Pinata by Think.Make.Share) - there are even watermelon and pineapple ones too!
Want to add lots of color to the mix? Check out this post by Giggles Galore! From invites to decor, Pizzazzerie shares it all!
(Giggles Galore's adorable invitations)
(lots of multi-use decor ideas)
3. "Aloha Summer" Luau Party
A luau is one of my favorite parties to throw during the summer because you can do so much with it! It's also such a fun, colorful theme! I throw at least one luau party a year for one of my loved ones - usually a birthday - but one year, we also used it as a "kickoff to summer" party theme for my daughter and her friends. 
Wow your guests as soon as they enter with a fun lei stand!
(lei stand by 100 Layer Cake)
Nothing says luau like multi-purpose pineapples! Check out these great ideas!
(painted pineapples featured on sheknows.com)
(pineapple vase featured on Catch My Party)
And, of course you will want a fun backdrop for pics!
(perfect tiki backdrop by Poppy & Grace)
(color block balloon arch by yours truly ;))
4. "Jump Into Summer" Water Party
There are so many fun water toys out there, that you could totally do a "water" party without the pool full of water. Here are some other ideas to bring the theme to life!
This party by Create Craft Love gives some awesome, very affordable ideas! I love another take on the noodle garland. 
(Splash Party set up by Create Craft Love)
Check out this AWESOME pool noodle cupcake stand!
(pool noodle cupcake stand by Lady Behind the Curtain)
And this Water Party by Just Add Confetti is pretty freaking epic, don't you think?!
(water park birthday by Just Add Confetti)
5. "Let's Shell-abrate Summer" Mermaid Party
Now, I don't think there's a better time than now to have a mermaid party with the new release of live action "The Little Mermaid," so here's some ideas to get your started!
I love this idea of painting seashells! I know so many kids that would love this! This is even a great idea for a stormy summer afternoon!
 (such a great idea by Fantastic Fun and Learning)
Check out this fun snack idea - and it pulls in all of the shell-tastic colors!
(find the recipe at Live Sweet Blog)
Are you a fan of favors at a party? I love giving guests a little something to take home and still be excited about afterwards and this was such a great idea! Chic Home & Styled Parties also has some CUTE snack ideas, too!
(treasure chest favors by Chic Home & Styled Parties)
6. "Tootie Fruitie Summer Bash"
I love all of the bright colors in this theme - from berries to melons, there are some many directions you can go with food and decor!
Check out these adorable cupcakes!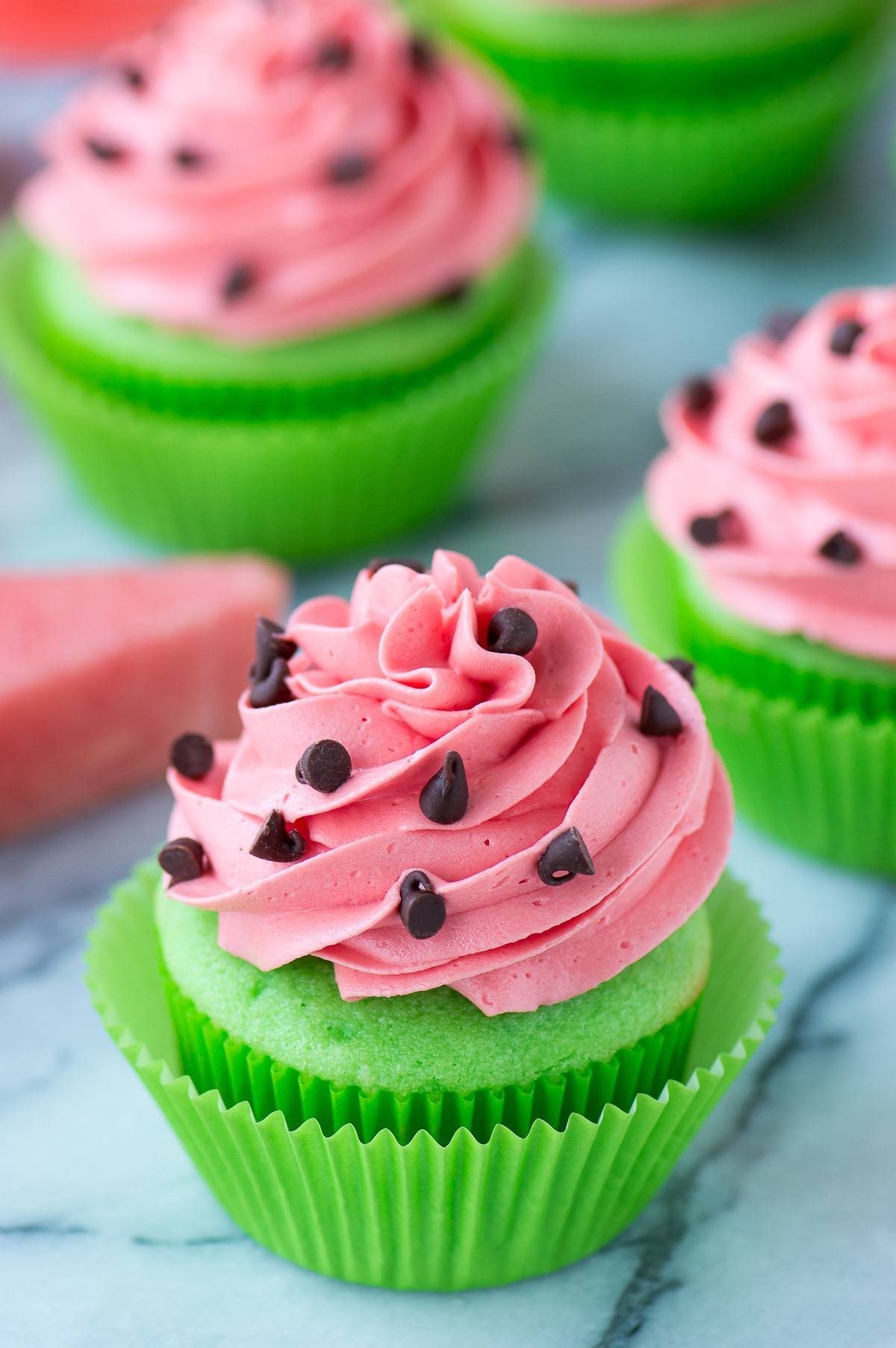 (find the recipe at The First Year Blog)
This party below is specifically for a two-ty fruity birthday but there are so many good ideas you could bring into your summer party, like this bold and beautiful balloon backdrop and fun themed drinks!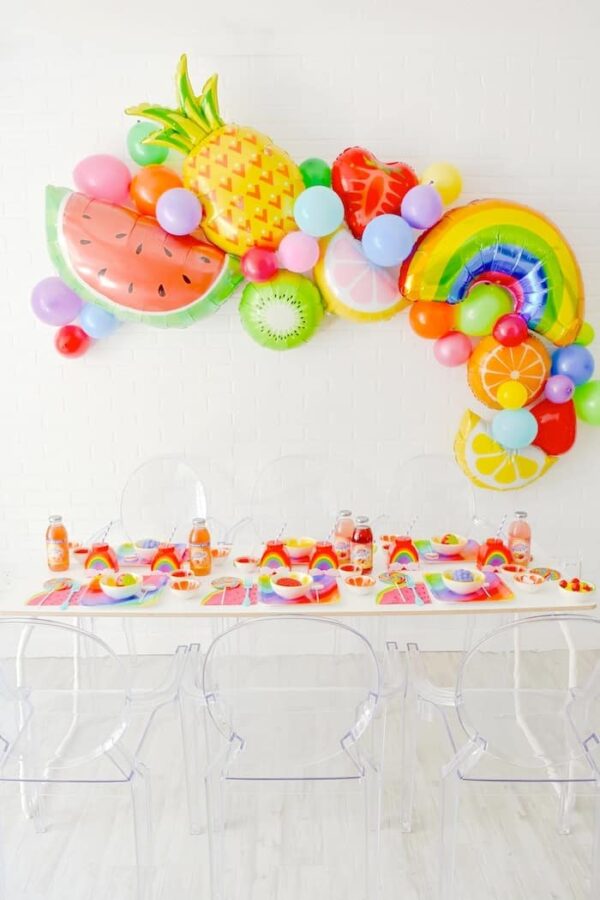 (fruity balloon arch by Kara's Party Ideas)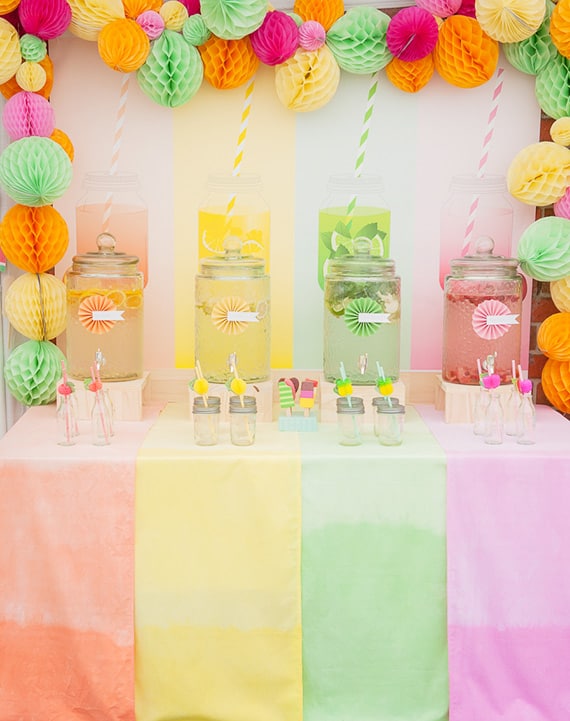 (themed drink station by 100 Layer Cake)
Speaking of themed - check out these themed mini cakes!
(fruit slice cakes by Studio DIY)
Well, that's it for now party people! Which one was your favorite?! Do you have any summer parties planned? I'd love to hear it!
Until next time, 
Life is a party, so let's CELEBRATE!!